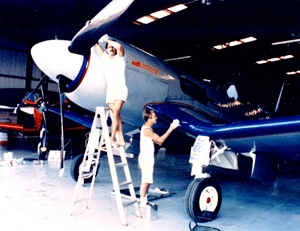 Aviation Uses of KISS-COTE® Self-Bonding Polymers (KSBP®)
Aircraft Coating Keeps Ice From Sticking To Wings Private pilots have been using this coating for 5 years - there has been a recent round of very favorable publicity in technical publications in the aviation industry and several commercial airlines and aircraft manufacturers are now looking at this to prevent ice adhesion. A major airline has ordered a test quantity last week and after the first test, ordered a second shipment. We are very encouraged that our product may be used to enhance the safety of aircraft, AOPA reported.
When there is so much concern about the safety of aircraft because of ice on their wings, a company here has developed a new coating that was proven in tests by a major airline and their aircraft manufacturer to be the most effective coating in helping prevent ice from sticking and accumulating on planes, making flying safer. Unlike other coatings, this innovative non-stick finish is applied simply by wiping it on and wiping off the excess. This novel coating, called KSBP® SpeedCote®, is based upon a patented process that makes any material like a piece of adhesive tape, with a sticky and a non-sticky side. Among its advantages, KSBP® SpeedCote needs no harsh chemical pre-treatments, no high heat or pressure, and no post-application curing, which all other coatings require.

Originally developed to keep plaque from sticking to teeth, these polymers have become known as the most effective environmentally friendly non-stick coating. It bonds so well to a surface that you can't separate KSBP® from the surface layer to which it is applied. Yet, it is so safe that it is used to keep blood cells from sticking to the insides of artificial hearts and blood vessels and as an invisible bandage on skin.

The KSBP® non-stick finish is so slippery that it is used to improve the performance of race boats, planes and cars - from the America's Cup Yachts to the Formula One Grand Prix race cars. It withstands extreme temperatures and harsh environments. Rolls-Royce Ltd. found KSBP® is the best way to release their jet engine parts that are molded at minus 80 Centigrade. Yet it also keeps carbon from building up inside of the combustion units of jet engines. It even protects against the high heat inside nuclear reactors.

KSBP® SpeedCote® is not a substitute for anti-icing and de-icing equipment, although pilots report they no longer need to inflate ice boots - devices on the wings of airplanes used to break off ice in icing conditions.