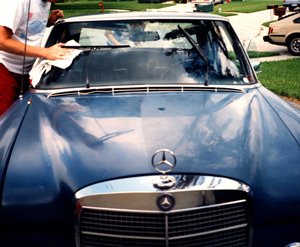 Automotive Uses of KISS-COTE® Self-Bonding Polymers (KSBP®)
We recommend application of KISS-COTE® to all top exterior surfaces of a car,including chrome, glass, and painted finishes. It seals the surfaces, protects them from acids, sun, detergents, etc., and makes it very easy to clean since it puts on a non-stick finish. It will bring back the color of a faded paint, and dramatically slow any additional fading. Cleaning involves rinsing with water, and occasionally washing with a mild detergent to remove any oily films. The car can then be quickly wiped dry, since KISS-COTE® sheds water.
A treated surface will have a no-wax shine and maintain the high water bead indefinitely. Once KISS-COTE® is on a car, it will never need to be waxed again. In fact, people who use KISS-COTE® and then accidentally get wax on it (i.e. carwash) usually take the wax right off because the wax does not give as nice a finish. The material lasts as long as the surface you put it on. However, realize that no surface lasts forever. If it goes onto a poor quality paint, it will not have the same life-expectancy. Insects and road grime are easy to clean off, and it is acid- resistant,so it protects against acid rain. Because it water- proofs the surface, it protects against rust. The water-shedding is useful when driving in rain, and it makes ice easier to get off in the winter.
The KISS-COTE® is applied with an orbital buffer to prevent burning of the paint, and then all the excess is wiped off with a clean adsorbent cloth. We provide instructions for diluting for special applications such as wire wheel covers. To date, our experience indicates the concentrated gel gives better results than the dilute forms, and does not contain any solvents that might harm the finish. In fact, KISS-COTE® has been thoroughly tested and approved by the FAA authorized testing laboratories, showing that it will not harm any material or finish used on an aircraft.
KISS-COTE® is also very cost effective. An experienced applicator can do 6-12 cars with an 8 gram package. It may sound impossible, but the material spreads a long way.KISS-COTE® provides a better shine and appearance than any other material tested, and replaces waxes and paint sealants. Ideally, new cars should be coated as soon as they are unloaded from the truck. The non-stick finish we provide makes it much easier to keep the cars clean until they are sold, reducing the frequency and difficulty of washings on the lot. It also reduces overspray problems (i.e. undercoating and rust inhibitors) because of its non-stick finish. Car salesmen are promoting KISS-COTE® as a new benefit to reduce maintenance and protect the finish. It is very helpful in southern climates, eliminating the insect problems. The bugs that are very difficult to clean off and pit the finish of an untreated car are washed off by the rain when the car is KISS-COTE 'd. The coating also prevents the bugs from pitting the finish since it is acid-resistant. Unlike Teflon and silicone coatings, KISS-COTE® does not cause any problems when re-painting is required.Once other non-stick coatings are on a car, it is difficult to re-paint.
To many people, KISS-COTE® sounds too good to be true, but it really works. Unlike most other products, we have to stress there is no benefit from using excess material. Literally, the less you use (so long as the surface is completely coated), the better it works. In fact, the final step of the application is to remove all excess material.